Prime Minister Narendra Modi paid tributes to Mahatma Gandhi at Rajghat in Delhi
New Delhi:
The nation today remembered Mahatma Gandhi on his 149th birth anniversary. Prime Minister Narendra Modi and President Ram Nath Kovind paid floral tributes to Mahatma Gandhi at Rajghat today. Congress President Rahul Gandhi and Sonia Gandhi also paid their tributes to Gandhiji. Every year, the nation pays homage to Mahatma Mohandas Karamchand Gandhi, who was fondly called Bapu, on his birth anniversary on October 2, which is also known as Gandhi Jayanti. Born in 1869 in Gujarat's Porbandar, Mahatma Gandhi had his early political training in South Africa while working among the local Indian community facing discrimination.
Here are the live updates on Gandhi Jayanti celebrations from across the country:
Oct 02, 201809:03 (IST)Prime Minister Narendra Modi will celebrate Gandhi Jayanti by attending programmes related to sanitation and renewable energy, with an emphasis on the "Swachhata Hi Seva" mission.
"Events related to sanitation and renewable energy shall be the focus of the Prime Minister's engagements on Gandhi Jayanti," said a statement from the Prime Minister's Office.
At the Rashtrapati Bhavan cultural centre, the Prime Minister will attend the closing session of the Mahatma Gandhi International Sanitation Convention — a four-day international conference that has brought together sanitation ministers and other leaders from around the world.
The Swachh Bharat Awards will also be distributed on this occasion.Oct 02, 201809:00 (IST)Three monuments in Delhi – Gol Gumbad, Bijri Khan and Paik tombs – will be illuminated with the tricolour for seven days from Gandhi Jayanti, Delhi Deputy Chief Minister Manish Sisodia has said.
"Through community engagement and cultural interventions, we want to highlight the amazing layers of Delhi's history and keep alive its composite culture," he saidOct 02, 201808:56 (IST) Congress President Rahul Gandhi and UPA chairperson Sonia Gandhi paid tribute to Mahatma Gandhi at Rajghat in Delhi. Rahul Gandhi was one of the first senior leaders to pay homage to Gandhiji at his iconic memorial.


Sonia Gandhi paid floral tributes to Mahatma Gandhi after Delhi Chief Minister Arvind Kejriwal and his deputy Manish Sisodia paid their homage to the Mahatma. Sonia Gandhi and Rahul Gandhi then left. The Congress leaders are slated to travel to Wardha in Maharashtra for the meeting of the Congress Working Committee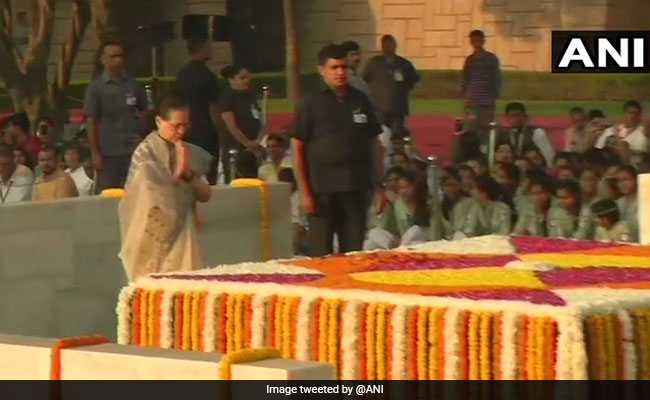 No more content Comments